This course considers the main provisions of the European Agreement on the International Carriage of Dangerous Goods by Road (ADR) and the Carriage of Dangerous Goods and Use of Transportable Pressure Equipment Regulations 2009 (or CDG) which implement ADR in Great Britain (England, Scotland & Wales). Northern Ireland has equivalent regulations and so this training course is also applicable there.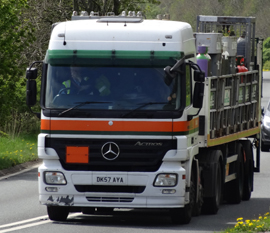 Course Modules:
Introduction (5 mins) – Looks at the background to the legislation covering the transport of dangerous goods, and introduces the terms ADR, RID, IMDG & CDG.
The Regulations (5 mins) – Covers the relationship between the CDG Regulations and ADR, and explains the meaning of 'cabotage'.
Enforcement (5 mins) – Lists the agencies responsible for enforcing the legislation and looks at inspection and enforcement regimes.
The DGSA (5 mins) – Explains who needs to appoint a Dangerous Goods Safety Adviser and lists their duties.
Classification (5 mins) – Explains how to classify goods using the Dangerous Goods List and how substances are assigned a Packing group (PG).
Packaging & Tanks (15 mins) – How to select appropriate packaging, how packages should be marked and the construction and inspection standards for tanks.
Consignment Procedures (20 mins) – Covers the marking & labelling of packages and the placarding & marking of vehicles, including the special arrangements for domestic only transport and the rules for documentation.
Loading & Unloading (5 mins) – Looks at the special provisions for the carriage of packages, bulk and tanks, together with rules for mixed loading and the special provisions for loading, unloading and handling.
Crew & Vehicle Requirements (10 mins) – Deals with driver training, the equipment to be carried on the transport unit, and the documents which must be carried.
Self Test (15 mins) – 30 multiple-choice questions
The average course completion time is 1 hour and 30 minutes.