This title has been designed for all employees who require a good knowledge and understanding of many of the safety issues present on industrial sites.
The training targets new employees and young persons in particular, by highlighting the basic health and safety hazards present in a wide variety of work situations.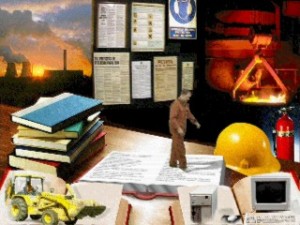 Course Modules:
Manual Handling – (15 mins) – Demonstrates correct handling techniques.
Persons Falling – (10 mins) – Deals with the prevention of falls from heights and at ground level.
Machinery – (5 mins) – Emphasises the need for training before using any tools or equipment.
Hazardous Substances – (10 mins) – Deals with the dangers of different types of hazardous substances.
Fire & Explosions – (10 mins) – Covers the main causes of fires and explosions.
Transport – (10 mins) – Explains the risks from various types of transport found on site.
Electricity – (10 mins) – Addresses the correct use of properly tested electrical tools.
Stepping on and Striking Objects – (10 mins) – Highlights the need for good housekeeping in the workplace.
Self Test – (10 mins) – Twenty questions to test the users understanding of the course.
The average course completion time is 1 hour and 30 minutes.