This course explains the potential hazards involved when using compressed gases in gas welding, flame cutting and related processes, and the precautions which must be taken to reduce the risk of injury and damage caused by fires and explosions.
It is aimed at managers and supervisors, as well as those who use and maintain such equipment.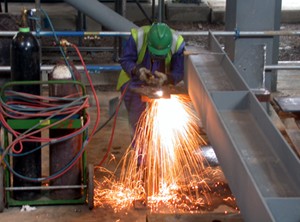 Course Modules:
Introduction (5 mins) – Lists the typical components of gas welding equipment, and introduces the standard colours used for gas cylinders and hoses, and the different hose threads.
Fire, Explosion & Other Hazards (10 mins) – Considers the main hazards when using compressed gases, and the specific characteristics of acetylene, propane and oxygen.
Design & Construction of Equipment (5 mins) – Looks at the materials which are, and those which are not, suitable for oxygen and acetylene service, and the need for oxygen equipment to be kept scrupulously clean.
Storage & Handling of Gas Cylinders (10 mins) – Describes the correct way to store and handle gas cylinders.
Personal Protective Equipment (5 mins) – Considers the PPE requirements for operators of gas welding and cutting equipment.
Operating Procedures (20 mins) – Deals with training, normal operations, lighting up & shutting down procedures, emergency procedures, work in confined spaces and dangerous operations.
Fire Precautions (5 mins) – Explains the need for operators to assess the risk of fire, and to take all necessary precautions to prevent fires occurring.
Maintenance, Examination & Testing of Equipment (5 mins) – Outlines the requirements for the regular examination of transportable gas cylinders.
Self Test (5 mins) – 20 multiple choice questions. Results are stored for later retrieval by training supervisors.
The total time for the course is is 1 hour and 10 minutes, including the test.