The aim of this course is to explain the requirements of LOLER 98.
It is for employers, self employed persons and any other person who has control of lifting equipment, its use or those who use it.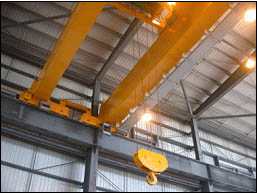 Course Modules:
Introduction – (10 mins) – What is, and what isn't, covered.
Strength & Stability – (10 mins) – Lifting equipment, and its load, must have adequate strength and stability for its anticipated use.
Lifting Persons – (10 mins) – Equipment used for lifting people must be such as to prevent people being crushed, trapped, struck or falling from the carrier.
Positioning & Installation – (10 mins) – Permanent lifting equipment must be installed, and mobile lifting equipment must be positioned, in such a way as to reduce the risk of the equipment or a load striking a person, or from a load drifting, falling freely, or being released unintentionally.
Marking – (10 mins) – Lifting equipment must be clearly marked to indicate its safe working load (SWL).
Lifting Operations – (10 mins) – Every lifting operation must be properly planned by a competent person, appropriately supervised, and carried out in a safe manner.
Examination & Inspection – (10 mins) – The extent of examinations and inspections will depend on an assessment of the risks based on the type of lifting equipment, where it is installed and how it is to be used.
Reports & Defects – (5 mins) – Competent persons conducting a thorough examination or inspection should notify the employer as soon as possible of any serious and significant defects found in lifting equipment.
Keeping Information (5 mins) – Reports of thorough examinations, the current record of inspection, and other documents, should be readily available to inspectors from the relevant enforcing authority.
Self Test – (10 mins)
20 multiple choice questions.
The average course completion time is 1 hour 30 minutes.