The aim of this course is to explain the health risks associated with legionella bacteria found in water systems such as cooling towers, and the measures which should be taken to reduce the risk.
It is for all persons whose work brings them into contact with water sources such as cooling towers, air conditioning systems and hot and cold water service systems.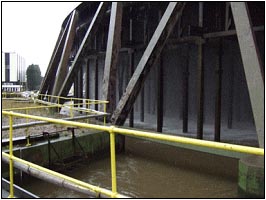 Course Modules:
Introduction (5 mins) – Describes the symptoms of legionnaires' disease and how it is contracted.
What the Law Says (6 mins) – Explains the duties of employers and manufacturers of water systems.
Risk Assessment (6 mins) – Looks at what a risk assessment must cover and the control measures which may need to be taken.
Water Treatment Methods (5 mins) – How legionnaires' disease can be controlled by temperature, and by various water treatment methods.
Cooling Towers (8 mins) – How to control legionella in cooling towers which use water as a heat exchange mechanism.
Hot & Cold Water Systems (5 mins) – How to prevent the proliferation of legionella in hot and cold water service systems.
Self Test (5 mins) – 20 questions covering each of the previous 6 modules. Results are stored for later retrieval by training supervisors.
The total time for the course is is 40 minutes, including the test.