The aim of the course is to ensure users of PPE are aware of their responsibilities under the Personal Protective Equipment at Work Regulations 1992.
The course explains why certain requirements have been introduced and stresses the importance of the correct use and storage of PPE.
It is for all employees who use any form of personal protective equipment.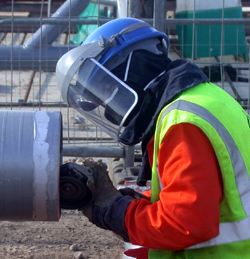 Course Modules:
Introduction – (5 mins) – A brief explanation of the overall aims of the course.
Legislation Overview – (10 mins) – Explains why the PPE at Work Regulations were introduced and highlights items of PPE which are covered by the Regulations.
Employers' Duties – (10 mins) – Explains employers obligations to provide PPE, appropriate accommodation for PPE, and information and training. This module explains why PPE must be provided as a last resort.
Your Obligations – (5 mins) – Describes the correct use and storage of PPE.
Training Requirements – (5 mins) – Outlines the need for appropriate information and training.
General Points – (up to 30 mins) – This module enables the user to access information and helpful advice on the selection and correct use of a wide range of PPE. The module is menu driven: users need only access information of particular relevance to them.
RPE – (10 mins) – Although respiratory protective equipment is excluded from the PPE at Work Regulations, this module is included as a brief guide to an important control measure used in many workplaces.
Self Test – (10 mins)
The average course completion time is between 60 and 90 minutes.