This course provides basic fire safety training to everyone at work.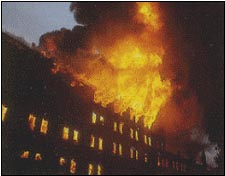 Course Modules:
Introduction (5 mins) – Why fire safety training is important.
What is Fire? (15 mins) – The chemistry and characteristics of fire.
Growth & Spread of Fire (10 mins) – How fires spread by convection, radiation and conduction.
Causes of Fire (10 mins) – The common causes of fire and how to avoid them.
Fire Extinguishers (15 mins) – The six major classes of fires and the different fire extinguishers which should be used to fight them.
What to do in case of Fire (5 mins) – The steps to take when a fire is detected.
Self Test (5 mins) – The self-test presents 10 multiple-choice questions.
The average course completion time is 1 hour 5 minutes.