The aim of this course is to explain the requirements of DSEAR 2002.
It is for all employees required to work within hazardous areas.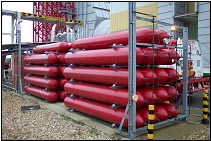 Course Modules:
Introduction (5mins) – Introduces the main requirements of DSEAR.
Risk Assessment (7mins) – Considers the essential components of a DSEAR risk assessment.
Control Measures (6mins) – The control and mitigation measures to be applied.
Explosive Atmospheres (4mins) – What to do with areas where a hazardous explosive atmosphere may occur.
Hazard Zones (10 mins) – Explains the 6 hazard zone classifications together with the 3 gas groups and 6 temperature classes.
Equipment & Protective Systems (3 mins) – Examines equipment suitable for use within classified hazardous areas.
Accidents, Incidents & Emergencies (3 mins) – Looks at the emergency arrangements to be established.
Information, Instruction & Training (2 mins) – Considers the training requirements of DSEAR.
Self Test (10 mins) – Presents 20 multiple-choice questions. Results are stored for later retrieval by training supervisors
The total time for the course is 50 minutes.